By Shawn Scott Smith| May 7, 2012 | Comments Off on Fanime Press Releases:
By Shawn Scott Smith| May 6, 2012 | Comments Off on Conventions this weekend May 11th-14th, 2012
May 11th-14th, 2012
ANS Comic La Plata, MD
Cam Con Cambridge, UK
Costume Con 30 Tempe, AZ
Gaslight Gathering San Diego, CA
Long Beach Comic Con Long Beach, CA
Geek Out Asheville, NC
Kimeracon Mesa, AZ
No Fate Con Pasadena, CA
Toy And Hobby Show Raleigh, NC
Watch City Festival Waltham, MA
Zenkaikon King Of Prussia, PA
By Petrea Mitchell| May 6, 2012 | 5 Comments
File 770 points a report in Space Cadet #19 (PDF, see page 4) that the Montréal-area sf convention Con*Cept will no longer be held due to lack of volunteers to work on it.
R. Graeme Cameron goes on to say in Space Cadet:
And most fans just want to buy stuff. They prefer FanExpo type events.

Let's see, the annual Calgary convention died last year. Now Con*Cept. I believe that leaves just three surviving traditional general interest SF cons in Canada, namely: VCON in Vancouver, KeyCon in Winnipeg, and Halcon in the Maritimes.
This seems unduly pessimistic. A quick skim through my notes so far this year also shows Ad Astra and Sci-Fi on the Rock, with ConBravo coming up in a couple months. And that's leaving out the numerous specialist conventions covering anime, gaming, anthropomorphic fandom and other topics which are all geared toward people who want to do a lot more than just "buy stuff". It may be a bit soon to declare the end of participatory Canadian fandom.
By Shawn Scott Smith| May 5, 2012 | Comments Off on 20 more dates for you!
Aug 17th-19th, 2012
Monster Mania Cherry Hill, NJ
Sept 28th-30th, 2012
Monster Mania Hunt Valley, MD
Oct 20th-21st, 2012
Tampa Bay Comic Con Tampa, FL
Nov 16th-18th, 2012
Days of The DeadShaumburg, IL
Arkansas Anime Festival Bentonville, AR
Feb 20th-24th, 2013
Prezcon Charlottesville, VA
Totalcon Mansfield, MA
March 1st-3rd, 2013
Plattecon Platteville, WI
Days of The Dead Atlanta, GA
March 8th-10th, 2013
Allcon Addison, TX
Condor San Diego, CA
Furnal Equinox Toronto, ON
Louisville Arcade Louisville, KY
March 14th-16th, 2013
Ohio Pinball Cuyahoga, OH
Kawaii Kon Honolulu, HI
Princecon Princeton, NJ
March 22nd-23rd, 2013
Anime Salt Lake Salt Lake City, UT
April 5th-7th, 2013
Days of The Dead Los Angeles, CA
Shutocon Lansing, MI
May 4th-5th, 2013
KiraKiracon Charlotte, NC
By Petrea Mitchell| May 5, 2012 | Comments Off on SFRA and Eaton join forces in 2013
The J. Lloyd Eaton Conference will be hosting the Science Fiction Research Association for a combined event in 2013, held April 10-14 at the Eaton Conference's home at the University of California, Riverside.
The theme for 2013 is media and all the ways it intersects with famdom: TV, movies, comics, computer games, cosplay, mashups, theme parks, and more.
The call for papers is posted here at IAFA, which is not involved in the conference.
By Petrea Mitchell| May 5, 2012 | Comments Off on Eurocon and Corflu Web updates
By Shawn Scott Smith| May 5, 2012 | Comments Off on Stan Lee attends Heroescon!
From their newsletter:
Heroes Convention 2012 Welcomes Stan Lee!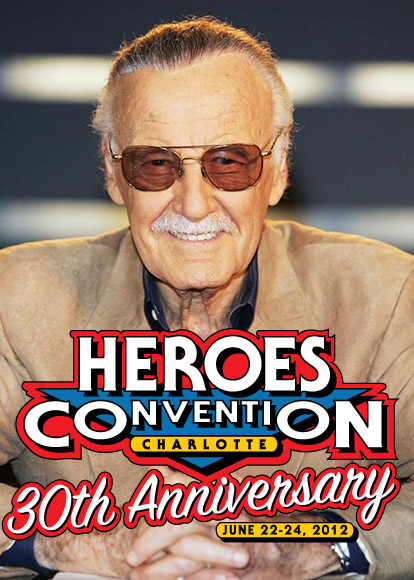 Shelton Drum is honored and excited to welcome comics legend Stan Lee back to Charlotte as a featured guest of Heroes Convention's 30th anniversary. Stan last attended HeroesCon in 1984 and his return this summer will be the crown jewel in the show's 30th Anniversary celebrations. Stan will be on hand signing autographs and posing for photographs during HeroesCon. He will also be featured on a panel discussion. All attendees of the convention will be welcomed to Stan's panel, photo opportunities and autograph sessions. Details of our VIP ticket packages will be announced next Friday, May 10th! Sign up for our mailing list to get the news first!
Stan Lee is known to millions as the man whose superheroes propelledMarvel to its preeminent position in the comic book industry, Stan's co-creations include Spider-Man, The Incredible Hulk, X-Men, The Fantastic Four, IronMan, as well as hundreds of others. He introducedSpider-Man as a syndicated newspaper strip that became the most successful of all syndicated adventure strips and has appeared in more than 500 newspapers worldwide.Stan currently remains Chairman Emeritus of Marvel, as well as a member ofthe Editorial Board of Marvel Comics. Stan is currently the Chairman & Chief Creative Officer of POW!
"Stan Lee has been the face and the voice of Marvel Comics since the debut of The Fantastic Four in 1961 and has in recent years become the same for comics and superheroes in general to most fans. I'm very excited and proud that Stan will be helping Heroes celebrate HeroesCon's 30th anniversary!" said convention organizer and comics retailer Shelton Drum. This year's Heroes Convention takes place June 22-24, 2012 at the Charlotte Convention Center.
By Shawn Scott Smith| May 5, 2012 | Comments Off on Gilles Poitras and Ric Meyers Return to FanimeCon 2012
By Shawn Scott Smith| May 4, 2012 | Comments Off on Igaguri Chiba to Appear and Perform at FanimeCon 2012
San Jose, CA (May 3, 2012) – FanimeCon is pleased to announce that Igaguri Chiba will be performing at FanimeCon 2012's MusicFest, held on May 26, Saturday evening of Memorial Day weekend.
Igaguri Chiba is the vocalist of the musical group Sendai Kamotsu. The story goes that six workers from a mysterious freight company from the Miyagi Prefecture, perform together for a hobby.  However, they always wear red overalls and heavy makeup to hide their identity from other coworkers at the freight company.  Chiba works in the delivery department of this company and is the younger brother of Nightmare's vocalist, Yomi.
Sendai Kamotsu announced their hiatus in November of 2009 due to the freight company becoming bankrupt in the economic recession.  The bankruptcy story is told in their "Fukyou no Kaze" music video.  Since then, Chiba has launched a solo career in efforts to build up the capital to revitalize the freight company.
By Shawn Scott Smith| May 3, 2012 | Comments Off on Cosplay Thursday!: The Avengers
Haven't done one of these in ages, but this seems appropriate as it is Avengers mania this week. This is really really bad. And its a promo event.

By Shawn Marshall| May 2, 2012 | Comments Off on The Con-Fluence Cons-of-the-Month: May Edition
As we edge further and further into what many call "Con Season," it becomes increasingly more exciting to look at the many shows around the country. May features one of my very favorite shows, so I'm especially excited about this month's calendars.
Here are my top five cons of May, 2012: Read more
By Petrea Mitchell| May 1, 2012 | Comments Off on PR: World Horror Convention goes to New Orleans
The Horror Writers Association (HWA) and World Horror Society (WHS) are pleased to announce that the World Horror Convention 2013 will be hosted by the HWA. WHC2013 will be part of the stand-alone Bram Stoker Awards? Weekend in New Orleans from 13-16 June 2013.
Both WHS and HWA are very pleased that we are able to combine this event. Currently, HWA holds its iconic Bram Stoker Awards Banquet in conjunction with WHC in even numbered years and stages its own stand-alone Convention in odd numbered years, so combining the event in 2013 is seen as beneficial to the whole horror community.
Read more
By Petrea Mitchell| May 1, 2012 | Comments Off on PR: Meta Con adds more Power Rangers
Meta Con 2012, a massively multi-genre sci-fi, entertainment, anime, steampunk, internet, and comics convention, is deeply excited to share that two additional stars from the Power Rangers will be appearing at and participating in this year's convention. Michael Copon (Blue Ranger, Time Force) and Nakia Burrise (Yellow Ranger, Turbo, Zeo, Mighty Morphin') will join Meta Con over Labor Day weekend from August 31 – September 2, 2012 at the Doubletree by Hilton in Bloomington, Minneapolis for autograph signings and question/answer panels. MetaCon will bring together thousands of fans of TV, comics, sci-fi, fashion, music, anime, and popular culture to the Minneapolis, Minnesota area for a three-day weekend celebrating popular entertainment and nerd life culture.
Read more
By Petrea Mitchell| May 1, 2012 | Comments Off on PR: Anime Midwest adds Panty & Stocking cast members
Anime Midwest 2012, one of the largest up-and-coming anime conventions to happen in the Chicagoland region is tremendously exuberant to announce the appearance of three cast members from the new FUNimation Panty and Stocking dub will be appearing at the Anime Midwest 2012 convention. Voice actors Jamie Marchi (Panty), Ian Sinclair (Chuck), and Joel McDonald (Brief), will join Anime Midwest 2012 in Lisle, Illinois this July for three days of autograph sessions, discussion panels, screenings, and more.
Read more
By Shawn Scott Smith| April 30, 2012 | Comments Off on Free Comic Book Day.

Not conventioning this weekend? Even if you are it might be worth taking a break and hitting up a local comic book store for some great free comics and usually some awesome sales as well in the once a year holiday known as Free Comic Book Day. It's this Saturday May 5th and happens throughout the U.S.
I really want the new Serenity/Star Wars offering from Dark Horse and the Archaia Sampler which also happens to be a Hardcover. Awesome. Find a store near you at the link for
Free Comic Book DaY!
By Shawn Scott Smith| April 29, 2012 | Comments Off on Added 3 comic shows.
June 9th-10th, 2012
Project Comiccon St. Louis, MO
July 21st-22nd, 2012
North Coast Comic Con Akron, OH
Sept 21st-22nd, 2012
South Texas Collectors Laredo, TX
By Shawn Scott Smith| April 29, 2012 | Comments Off on Conventions this Weekend May 4th-6th, 2012
Anyone heading out to any of these?
May 4th-6th, 2012
Atlanta South Comic M Donough, GA
Bam-con Pittsfield, MA
CoreconMoorhead, MN
Creation Star Trek Philadelphia, PA
Demicon Des Moines, IA
Do Deca Con Columbia, MO
Elliots Spring Gathering Orlando, FL
Hauntcon Pittsburgh, PA
Huzzah Portland, ME
Morphicon Columbus, OH
Halloween and Haunters King of Prussia, PA
No Brand Con Eau Claire, WI
Outlantacon Atlanta, GA
Super Wild Pig Piscataway, NJ
Texas FrightmareDallas, TX
Toronto Comics Arts Toronto, ON
By Shawn Scott Smith| April 28, 2012 | Comments Off on 22 dates added!
Nov 2nd-4th, 2012
Emerald City Steampunk Witchita, KS
Nov 10th-12th, 2012
Anime Vegas Las Vegas, NV
Nov 16th-18th, 2012
DaishoconWisconsin Dells, Wi
Jan 11th-13th, 2013
Creation Xena Burbank, CA
Jan 18th-20th, 2013
Deconpression Columbus, OH
Marscon Williamsburg, VA
Rustycon Seattle, WA
Feb 8th-10th, 2013
Galaxyfest Colorodo Springs, CO
Ushicon Round Rock, TX
Feb 15th-17th, 2013
Con Of the North St. Paul, MN
Dead Winter London, KY
Radcon Pasco, WA
Feb 22nd-24th, 2013
Tsukinocon Victoria, BC
Anachrocon Atlanta, GA
Con-G Guelph, ON
Dreamation Morriston, NJ
March 8th-10th, 2013
Creation Supernatural Las Vegas, NV
Gamicon Iowa City, IA
April 6th-8th, 2013
Creation Vampire Diaries Chicago, IL
July 3rd-7th, 2013
DEXCON Morriston, NJ
Feb 20th-23rd, 2014
Dreamation Morriston, NJ
July 2-6th, 2014
DEXCON Morriston, NJ
« go back
—
keep looking »