By Shawn Scott Smith| January 9, 2012 | Comments Off
Besides running con-news, I spend a lot of my convention time in Artist Alleys selling my creature paintings. Well this is time to self promote as I have my 2012 Convention print in stock. It's the Avengers in all their glory done up in my creature style and ready to hang on your wall. Below is my advert. Thanks again for reading con-news and for this little self promotion.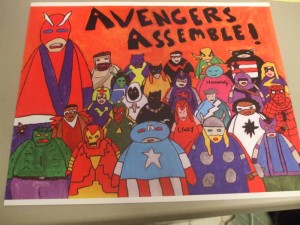 My 2012 Convention print Avengers Assemble is now up and available at Etsy. It's only 10$ and you can get it there or at any one of the numerous cons I'm attending this year.
By Shawn Scott Smith| January 9, 2012 | Comments Off
Overland Park, Ks. – Naka-Kon has announced its final guests for 2012: Yaya Han and DJ Infam0us.
Yaya Han is a costume designer, model and cosplay entertainer with 12 years of experience. After discovering cosplay at her first con over a decade ago, she quickly absorbed the heart and soul of costume design and creation. To this day Yaya has made 200 (and counting) costumes in the genres of anime/manga, comic books, video games, sci-fi and of course from her own original designs.
DJ Infam0us will leave no genre or fandom untouched while he spins at Naka-Kon's nightly dance parties.
For more information about Yaya Han, DJ Infam0us, and other guests, please visit http://naka-kon.com/guests.
By Shawn Scott Smith| January 9, 2012 | Comments Off
Feb 10th-12th, 2012
Almacon Alma, MI
Feb 23rd-25th, 2012
Galaxyfest Colorodo Springs, CO
March 9th-11th, 2012
Animeland Wasabit Denver, CO
Ohio Pinball Cuyahoga, OH
March 24th-25th, 2012
Planet Comiccon Overland Park, KS
March 31st-April 1st, 2012
Gem City Dayton, OH
April 6th-8th, 2012
Triad Anime Con Winston Salem, NC
April 13th-14th, 2012
Wildcat Comic Con Williamsport, PA
April 20th- 21st, 2012
Nadeshicon Sillery, QB
Boston Comic Con Boston, MA
May 4th-6th, 2012
Bam-con Pittsfield, MA
May 11th-13th, 2012
Kimeracon Mesa, AZ
No Fate Con Pasadena, CA
May 18th-20th, 2012
Nauticon Provincetown, MA
July 6th-8th, 2012
Chiisaicon Sheperdsville, KY
July 27th-29th, 2012
Wausaubicon Wasua, WI
Aug 10th-12th, 2012
Nagucon Helena, MT
Sept 8th-10th, 2012
Rose City Comiccon Portland, OR
Oct 19th-20th, 2012
Anime Fusion Bloomington, MN
Dec 21st-23rd, 2012
Anime Apocalypse Rockford, IL
May 23rd-26th, 2013
Galacticon 3 Houston, TX
June 28th-30th, 2013
Cosplacon Jefferson City, MO
By Shawn Scott Smith| January 8, 2012 | Comments Off
So many great conventions this weekend. I'll be at Illogicon in Raleigh, both as a panelist and in Artist Alley. See you there!
Jan 13th-15th, 2012
Albuquerque Comic Albuquerque, NM
Arisia Boston, MA
Brickfair Birmingham, AL
Darkcon Mesa, AZ
Deconpression Columbus, OH
Further ConfusionSan Jose, CA
Illogicon Raleigh, NC
Marscon Williamsburg, VA
Sac Anime Sacremento, CA
Scarab Columbia, SC
Snow Con Orono, ME
Toy And Hobby Show Raleigh, NC
By Shawn Scott Smith| January 7, 2012 | Comments Off
San Jose, CA (January 6th, 2012) – FanimeCon, in partnership with the Steam Federation, is proud to announce Clockwork Alchemy! This new additional convention for steampunk fans will be held during Memorial Day weekend, May 25th–28th, 2012, the same weekend as FanimeCon. A single membership will grant access to both FanimeCon in the San Jose Convention Center area and Clockwork Alchemy in the DoubleTree Hotel.
Clockwork Alchemy is a creative exploration of the world of steampunk, a fantastical past that never was but should have been. Steampunk is a world of incredible machines, daring heroes, bold inventors, mad scientists, and adventure at every turn, all set in a time when steam powered the world and the possibilities were endless!
The DoubleTree Hotel will host Clockwork Alchemy's steampunk events: Experience the incredible Dirigible Races. Be amazed by displays of martial prowess. See the astonishing creations of artists, makers, inventors, builders and tailors as they display their works. Trip the light fantastic at our Gala Ball, be delighted by the sounds of talented musicians, and meet noted creative minds in the steampunk genre. Find once again the wonder and enchantment that you thought you'd lost when you were a child. Be transported to a time and place where, instead of being told, "No, you can't," you'll ask, "How hard can it be?" At Clockwork Alchemy you'll be a part of the exciting steampunk movement. Come let it surprise and delight you.
By Petrea Mitchell| January 7, 2012 | Comments Off
Another Comic-Con co-founder has died. Richard Alf was diagnosed with advanced pancreatic cancer in December, and died Wednesday evening. The San Diego Union-Tribune has an extensive obituary here.
By Shawn Scott Smith| January 6, 2012 | Comments Off
These guys have some exciting stuff lined up this year. Below is an email,
"Happy New Year!
2011 turned out to be a VERY busy year for us.  We launched two new fan conventions (Florida Anime Experience & InvaderCON,) appeared at four other conventions (Anime Weekend Atlanta, Florida Supercon, Gen Con, & MomoCon,) and even announce a new convention for 2012 (PinUpalooza.)
As we roll out the new year, we're busy hammering out details on a number of new and exciting projects to enhance the fan experience.  For now, though, here's a recap of all the awesomeness we've rolled out so far…
Florida Anime Experience 2012
(tickets on sale now!)
May 25-27, 2012 in Orlando, Florida
http://www.floridaanime.com
PinUpalooza
(tickets on sale in February)
July 7, 2012 in Orlando, Florida
http://www.pinupalooza.com
InvaderCON II: DOOMCON
(tickets on sale now!)
July 27-28, 2012 in Torrance, California
http://www.invadercon.com
Badges from Conventions
Our new Tumblr blog featuring a collections of badges collected from anime, comic book, and science fiction conventions across the U.S.
http://WasabiAnime.tumblr.com
By Shawn Scott Smith| January 6, 2012 | Comments Off
I've got my schedule for Illogicon
Ill be in Artist Alley both Saturday and Sunday during the day and on the following panels.
Saturday the 14th
Iron Artist – 1 hour challenge to make one piece of art.€ Artists could donate their pieces to the charity auction. Saturday, 2:00 PM, Lincoln.
Panelists: Rich Sigfrit (host), Scott Smith, Charlie Harper, Jason Strutz
Sunday the 15th
Letterpress Demo – Come learn how to operate an old-school printing press. Sunday, 10:00 AM, Lincoln.
Panelists: Scott Smith, Jessica C. White
Sci-Fi On Screen — Roundtable discussion of the current crop of TV and movies. Sunday, 1:00 PM, Washington.
Panelists: Rich Sigfrit(M), Scott Smith, Angela Pritchett, John Kessel, one of the Firetower crew
Convention Stories – Most of us have been to a few of these things before, but even then, some of the things that happen at cons can be tough to believe. Hear our panel of veterans recount some of the wildest and wackiest things they've seen at cons. Sunday, 3:00 PM, Lincoln.
Panelists: Scott Smith(M), Davey Beauchamp, Allegra Torres, Brittney Chiki Fisher, Angela Pritchett
The entire schedule can be seen on Illogicon website. See you there!
By Petrea Mitchell| January 5, 2012 | Comments Off
The words "science fiction convention" were first put together to describe a gathering at Milt Rothman's house in Philadelphia in 1936. But the first thing that modern fans would recognize as a convention was held 75 years ago this month at the Theosophical Hall in Leeds, England. Rob Hansen has collected some photographs and contemporary accounts here.
By Shawn Scott Smith| January 5, 2012 | Comments Off
Los Angeles, January 4, 2012 – Keu Cha and Hex The Lost Tribe will be attending The Amazing Arizona Comic Con in Mesa Arizona on January 6-8.
Come by and support us and get the chance to win original art and prints. Also, Keu Cha will be doing a 'how to draw' workshop!
Keu Cha tells: "The workshop is going to be alot of fun. I'll get the chance to talk as I draw and give you a glimpse into my madness. Believe it or not, there is a lot of thought, understanding and experimenting every step of the way. My goal is to show this birthing process in all it's glory!!  I'll get frustrated when I'm stuck and excited when things work out. I plan on doing this by  not planning… because I want to talk about the creative thinking before the drawing. I feel it is equally as important. I want everyone to enjoy and relate in seeing me struggle. Can't wait!!!!!
Warning: I might swear from time to time.
I want to thank Bill and Jimmy Jay for holding the show and  for all the support!"
The Amazing Arizona Comic Con can be found online: http://amazingarizonacomiccon.com
HEX the Lost Tribe can be found online:
- http://www.hexthelosttribe.com/
- http://keucha.deviantart.com/gallery/ Read more
By Shawn Scott Smith| January 4, 2012 | Comments Off
EDGAR RICE BURROUGHS &
THE 100th ANNIVERSARY OF
TARZAN OF THE APES
& JOHN CARTER OF MARS
MEMBERSHIPS: Memberships are $35
for all three days, $25 for Friday only, $25 for
Saturday only, and $10 for Sunday only (But
see the HOTEL section for details on how to
get a $10 refund on your membership!). We
are also offering Early Bird Admission for
non-dealers for $60, which is a three day
membership which allows entry to the dealer
room on Friday at 10 a.m. (which is one hour
after dealer setup begins and two hours before
the con generally opens to the public).
Ages 13 & under are free. Read more
By Shawn Scott Smith| January 4, 2012 | Comments Off
William Shatner, Stan Lee, Meet-and-Greets, James Marsters, Mary McDonnell, Adam Baldwin Q&A's, Evening Parties Highlight Wizard World New Orleans Comic Con Programming
Jedi Master Classes, 'Boondock Saints' Reunion, 'The Victim' Movie Screening And More At  Ernest N. Morial Convention Center, January 28-29
NEW YORK and NEW ORLEANS, January 3, 2012 – Rare meet-and-greets and Q&A sessions with legends William Shatner and Stan Lee, panels with movie and TV stars James Marsters, Mary McDonnell andAdam Baldwin, and several themed parties headline a broad, diverse schedule of special programming at the 2012 Wizard World New Orleans Comic Con, January 28-29 at the Ernest N. Morial Convention Center.  Unique Jedi lightsaber classes, sessions with stars of classic favorites, a screening of the new film THE VICTIM and artist schools to costume contests are some of the activities that reflect the wide variety of interests shared by Comic Con attendees.
Some of the top sessions include:
Once-in-a-lifetime, extremely limited meet-and-greet opportunities with pop culture legends Shatner and Lee, including photo ops and special gifts
Q&A panels with Marsters ("Buffy The Vampire Slayer," "Angel"), McDonnell ("Battlestar Galactica"), Baldwin (FULL METAL JACKET, SERENITY), and Lou Ferrigno ("The Incredible Hulk")
Cult classic BOONDOCK SAINTS reunion featuring the personable duo of Norman Reedus and Sean Patrick Flanery
Young stars Chandler Riggs and Madison Lintz of the hit AMC series "The Walking Dead"
Informative, interactive sessions with superstar artists including John Layman, Rob Guillory, Tyler Kirkham, Carlos Pacheco, Vic Mignogna and others
Jedi Lightsaber classes, in which fans can learn the same techniques used in STAR WARS films, taught by sword master Nick Gillard, who choreographed the fight scenes for three of the blockbuster films
Screening of the new feature film THE VICTIM, with director/producers Michael Biehn and Jennifer Blanc
Party time… including the Official Kick Off Party on Friday night, Saturday After-Party and popular Masquerade Ball
Wizard World New Orleans Drink And Draw, hosted by artist Tommy Castillo, during which some will drink…some will draw…and the best will take on the challenge of doing both
The popular adult costume contest and fun kids costume contest with great prizes
Unless noted, New Orleans Comic Con programming will take place in the designated panel rooms at the Morial Convention Center, and is included with admission to the event.  Notable events requiring additional ticket purchase include the Shatner and Lee meet-and-greets and lightsaber classes.  Seating for panels is strictly limited and available on a first come first serve basis and each room will be cleared between panels. Read more
By Shawn Marshall| January 4, 2012 | Comments Off
This Friday night, The Walking Dead and all of their zombified zomibies invade Mesa, AZ and the Amazing Arizona Comic-Con. Kicking things off with a zombie walk on Friday evening, AACC is packing the weekend full of Walking Dead goodness: Read more
By Shawn Scott Smith| January 4, 2012 | Comments Off


Happy to say that we have a new convention Sponsoring con-news.com The Louisville Arcade Expo takes place this March 2nd-4th, 2012. I can't wait to attend. I will also be set up selling my creature paintings on both Saturday and Sunday at the show. And will be getting my pinball and gaming on in the evenings. See you there! Website
By Shawn Scott Smith| January 3, 2012 | Comments Off
Norwalk, CT, January 2, 2012:  Just in time to welcome the New Year, New York Comic Con (NYCC) organizers have today announced that 4-Day tickets for the 2012 pop culture extravaganza in New York City will go on sale tomorrow, January 3, 2012 at 12 noon EST.  The 4-Day ticket provides an exclusive pass to New York Comic Con on Thursday (October 11) as the convention will be open on that day to only Pros, Press, VIPs and fans who purchase a 4-Day ticket!  Officials also note that more panels and screenings will be added to the schedule on Thursday and the convention will have extended hours on Thursday with the show floor open from 3pm – 9pm.
The dates for this year's New York Comic Con are Thursday, October 11 – Sunday, October 14, 2012 at the Javits Convention Center in New York City.  NYCC organizers note that right now they are only selling the exclusive 4-Day tickets.   Last year the 4-Day tickets sold out so fans are encouraged to mark their calendar and buy their tickets early!  Meanwhile, 3-Day tickets will go on sale later this Spring and Single Day tickets will go on sale in the Summer.  All tickets for the convention may be purchased at www.newyorkcomiccon.com.
Tickets for New York Comic Con in 2011 were completely sold out and officials note that exhibit space for last year's show was also sold out. Customers interested in signing up for NYCC in 2012 should contact Larry Settembrini at lsettembrini@reedexpo.com.  Other information about the show, as well as news about ReedPOP, which also organizes Chicago Comic and Entertainment Expo (C2E2), is available at Lance Fensterman's blog,www.mediumatlarge.net.
By Shawn Scott Smith| January 2, 2012 | Comments Off
March 3rd-4th, 2012
Tampa Bay Comic Con Tampa, FL
May 4th-6th, 2012
Do Deca Con Columbia, MO
Sept 20th-27th, 2012
Fantastic Fest Austin, TX
Oct 6th-7th, 2012
Brickcon Seattle, WA
Oct 12th-14th, 2012
Realms Con Corpus Christi, TX
Oct 19th-21st, 2012
Concept Montreal, QB
Oct 26th-28th, 2012
Furfright Cromwell, CT
Nov 3rd-4th, 2012
Long Beach Comic Con Long Beach, CA
Nov 9th-11th, 2012
Memphis Comic Con Memphis, TN
Bakuretsu COn Colchester, VT
Oct 31st- Nov 3rd, 2013
World Fantasy Brighton, UK
By Petrea Mitchell| January 1, 2012 | Comments Off
A bid to hold the 67th Westercon in Salt Lake City has been officially filed. The dates would be Thursday, July 3rd to Sunday, July 6th, 2014 and the venue would be the Little America Hotel. Site selection for 2014 will be administered by this year's Westercon.
By Shawn Scott Smith| January 1, 2012 | Comments Off
Jan 7th-9th, 2012
Amazing Arizona Comic Mesa, AZ
Anime LA Los Angeles, CA
Anime Zap Peoria, IL
Atlanta Game Fest Atlanta, GA
Destination Anime Destin, FL
Ga Filk Atlanta, GA
Ichibancon Charlotte, NC
Instacon Dallas, TX
Kotoricon Sewell, NJ
Magfest National Harbor, MD
Shadowcon Memphis, TN
Taiyoucon Mesa, AZ
« go back
—
keep looking »