By Shawn Scott Smith| March 22, 2011 | Comments Off on Jordancon updates
From their monthly email,
"Hi folks,
The tentative JordanCon 2011 schedule is now online. You can view it
here:
https://docs.google.com/viewer?a=v&pid=explorer&chrome=true&srcid=1bNoULv722N66pFONk84EQzIpXy1DzHeMAp-C2WGQU-DD25e5l4JToJMYNGt_&hl=en
Also of note, Dragonmount.com has a new "Wheel of Time Video News"
segment. This week's featured topic is JordanCon. You can check it out
here: http://www.dragonmount.com/index.php/News/videonews/jordancon2011
If you haven't registered yet, pre-registration is still open until
April 3rd at $55 for the whole weekend. After that, it will be $65 at
the door. http://www.ageoflegends.net/?page_id=32 
By Shawn Scott Smith| March 21, 2011 | Comments Off on Nashicon from the artist alley.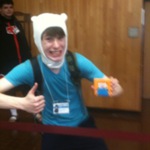 Had a great time this weekend at Nashicon this weekend. I knew it would be a great con when as I walked through the door this awesome Finn cosplayer saw my finn creature painting.
I spent most of my weekend in Artist Alley next to the awesome folks of Jellykoe. They make the best stuff on the planet, and some of it is even stuffed.
I was also fortunate enough to meet the kind and cool Sean and Shirley McGuinness. Sean runs the famous Godzilla/Kaiju comic Twisted Kaiju Theater. Its a great webcomic that if you have any love for the Giant Monsters of the world, you should add to your reading list. I made them these cool creatures.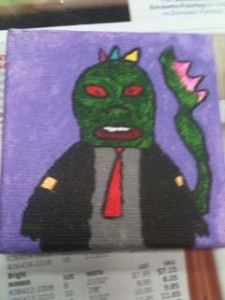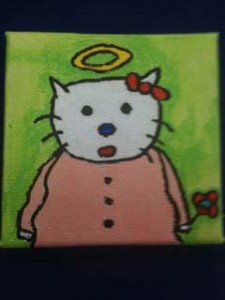 Also had a request for a tooth fairy. Made him scary.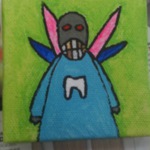 And the letter M. Never had a request for a letter before.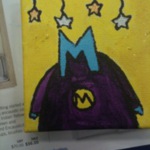 And this guy I made for fun. He sold minutes later.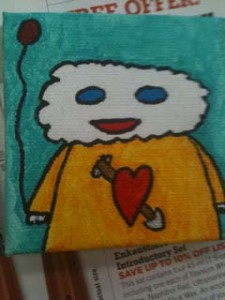 The following I made in the slow times. Harlock, Princess Peach, Pokeball, Bomber Punk, Kangaroo. Ill get them up on my Etsy as soon as I can.
It was a great convention, and if they will have me I plan on attending again next year.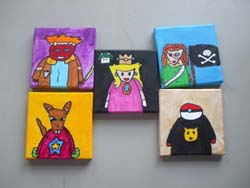 By Shawn Scott Smith| March 21, 2011 | Comments Off on Horror Realm news
Press release:
Horror Realm Announces Fall 2011 Guest Lineup
Author Jack Ketchum and director Eduardo Sanchez among those slated to appear
Pittsburgh, PA – March 9, 2011 – Fresh off its successful one day Spring Break Massacre and Zombie Gras celebration, Horror Realm is pleased to announce the first wave of guests for its fall show. Pittsburgh's modern horror convention's annual three-day show will be held September 16 to 18, 2011 at the Crowne Plaza Pittsburgh South (164 Fort Couch Road, Pittsburgh, PA 15241).
The convention features a dealer room, celebrity and author panel discussions, contests, parties and other activities to keep fans engaged throughout the entire weekend. Horror Realm also supports various charities by raising funds through silent auctions and raffles as well as awareness of the causes.
Read more
By Shawn Scott Smith| March 20, 2011 | Comments Off on Conventions this Weekend March 25th-27th, 2011
March 25th-27th, 2011
Aggieccon College Station, TX
Anime Conji San Diego, CA
Anomalycon Denver, CO
Babelcon Baton Rouge, LA
Chicago Zine Chicago, IL
Conbust Northhampton, MA
Con-nichiwa Tuscon, AZ
Creation Supernatural Los Angeles, CA
Eyecon Vampire Atlanta, GA
Game Storm 12, Vancouver, WA
Invadercon Atlanta, GA
Mace West Hickory, NC
Megacon Orlando, FL
Midsouthcon Memphis, TN
Midwest Gaming Classic Milwaukee, WI
Planet Comic Con Kansas City, KS
Shutocon Lansing, MI
Steampunk Exhib Santa Clara, CA
Steam Revolution Nashua, NH
Texas Pinball Grapevine, TX
By Shawn Scott Smith| March 19, 2011 | Comments Off on Fan Film Saturday: Street Fighter Legacy
By Petrea Mitchell| March 19, 2011 | Comments Off on News of the first Worldcon
The first World Science Fiction Convention was held in New York City in 1939, and a reporter from Time was there. Now you can read the resulting story online.
Even as sf cons were starting to coalesce into familiar patterns, it appears that mainstream press coverage of journalism was also developing into the form we know well today. Spot the period equivalents for "nerdy boys living in their mothers' basements", "beamed up", and more!
By Shawn Scott Smith| March 18, 2011 | Comments Off on Nashicon

Heading to Nashcion in the morning. Ill be set up in the artist alley all day so please stop by and say hi. If you can't make it you can follow my Twitter here for all the cool stuff happening.
By Shawn Scott Smith| March 17, 2011 | Comments Off on 2 shows added.
April 1st-2nd, 2011
Ohio Pinball Cuyahoga Falls, Ohio
Dec 30th-Jan 1st, 2012
Ikkicon Austin, TX
By Shawn Scott Smith| March 16, 2011 | Comments Off on HARVEY NOMINATION BALLOTS DUE IN 12 DAYS!
Ballots Due Monday, March 28th!
BALTIMORE, MD (March 16, 2011) — Nomination ballots for the 2011 Harvey Awards, honoring works published in 2010, are due Monday, March 28th.  Ballots will be accepted by email until midnight, March 28th.  For those who wish to mail the ballot, it must be postmarked by March 28th!

 
Ballots can be downloaded from HarveyAwards.org. Completed forms can be e-mailed to harveyballots@hotmail.com.
  Read more
By Shawn Scott Smith| March 16, 2011 | Comments Off on Anime Next welcomes Sixh.
Press Release: – AnimeNEXT, the largest independent, fan based anime convention in the New York metropolitan area, announced today that it is welcoming Japanese Designers Sixh. its 2011 convention. Sixh. is made up of the fashionable duo of IBI and MINT.
Successful Japanese designer Naoto Hirooka has seen success for many years and the mid 2000's started a new project as part of his gothic and lolita fashion line h. NAOTO, "h.ism." In 2007, as a continuing part of the success of h.ism led to Naota's collaboration with the young fashion design duo IBI and MINT and "Sixh. is born. That same year the first fashion line is created by IBI. The line uniting visual-kei artistry with the imagery of popular host and hostess clubs. MINT follows this success up and launches the New Japan Mode Collection featuring a relaxed character, "MINT Neko", and Sixh. flourishes from there.
The fashion designers continued their innovation in the same by expanding from not only a fashion brand but also into a band with the same name. IBI singing vocals and MINT on the bass. They are joined by guitarist NARI. In 2010, Sixh.'s ladies' collection "MelT" debuted and joined the line-up.
This is the first time that the designers will be visiting the East Coast of the United States. Robert Rustay, the Convention Chairman for AnimeNEXT 2011 and Board Member of Universal Animation, the not for profit corporation which owns and operates the convention, said "IBI and MINT and their fashion line are a great addition to the tenth anniversary AnimeNEXT. We are very happy to welcome them to the convention. AnimeNEXT has always tried to innovate and bring new contemporary artists to fans at the convention year after year. AnimeNEXT was among the first anime conventions in the United States to welcome J-Rock bands as guests. Now we are continuing that tradition of innovation in our tenth anniversary year by welcoming IBI and MINT and their fashion line Sixh."
Read more
By Shawn Scott Smith| March 15, 2011 | 1 Comment

Comikaze Expo Los Angeles, CA
From the website:
"Comikaze Expo is Los Angeles' first and only large-scale, multi-media pop culture convention. We bring together the most exciting and innovative in comics, video games, original art, movies, television and more. Our goal is to provide an unparalleled and unforgettable experience for both attendees and exhibitors.
Comikaze has more to offer than any other convention. Our unique panels, autograph sessions and photo-ops give fans once-in-a-lifetime opportunities to truly interact with their favorite creators and major players in the entertainment industry. Our screening rooms feature the best in both blockbusters and independent films, with sneak previews of films and television shows months before their release dates.
Read more
By Shawn Scott Smith| March 15, 2011 | Comments Off on Con Carolinas Fan Guests of Honor
Fron the Con Carolinas Website
Leila "Keela" McMichael and her husband Andy "Katkith" Fairbanks, who both love to sing, debuted their version of Klingon Karaoke at Spartacon in Spartanburg, South Carolina, in November 2002. It was well-received and they were very excited by the response. The next stop was ConCarolinas in Charlotte, North Carolina, in 2003, where it was also enjoyed, and they have been invited back every year since with performances both Friday and Saturday nights. They have also been featured at StellarCon in the Winston-Salem/Greensboro/High Point (North Carolina) area in 2005, 2006, 2007 and 2008. Klingon Karaoke has also been performed at Beach Bash 2003 and STARFLEET`s Region 1 Summit 2005.
Read more
By Shawn Scott Smith| March 14, 2011 | Comments Off on 10 more 2011 dates.
April 29th-May 1st, 2011
Bayoucon Lake Charles, LA
May 14th-15th, 2011
Big Wow Comic San Jose, CA
June 3rd-5th, 2011
Monster Mania Hunt Valley, MD
June 25th-26th, 2011
C3 Traverse City, MI
Aug 19th-21st, 2011
Monster Mania Cherry Hill, NJ
Sept 16th-18th, 2011
Monster Mania Hunt Valley, MD
G.N.E. Steampunk Fitchburgh, MA
Dec 5th-10th, 2011
Furry Cruise Ft. Lauderdale, Fl
Feb 25th-26th, 2012
Vul-con Phoenix, AZ
By Shawn Scott Smith| March 13, 2011 | Comments Off on Convergence welcomes Paul & Storm

From the CONvergence website,
"Paul and Storm to Play CVG 2011
Musical and improv duo Paul and Storm will be performing at CONvergence on Friday, July 1. You may have heard them on the "Dr. Demento" or the "Bob and Tom" radio shows, seen them online at Homestarrunner.com or YouTube, or watched them perform live with Jonathan Coulton or in their touring geek cabaret W00tstock. Now you can experience "The Captain's Wife's Lament" at your favorite con! How many verses will they sing for us?"
CONvergence runs from June 30th-July1st. All the gooey details can be found on the CONvergence website here.
"
By Shawn Scott Smith| March 13, 2011 | Comments Off on Conventions this Weekend March 18th-20th, 2011
Ill be in the Artist Alley at Nashicon this weekend, but theres some other huge things happening. Anyone going to any of these?
March 18-20, 2011
A and G Cinncinatti, OH
Allcon Addison, TX
Anime Matsuri Woodlands, TX
C2e2 Chicago, IL
Conncon Stamford, CT
Fantascicon Dalton, GA
Furry Atlanta Atlanta, GA
Hatsume Fair Delrey Beach, FL
IAFA Orlando, FL
Joelanta Atlanta, GA
Keokon Keokuk, IA
Lunacon Rye Brook, NY
Millenicon Cinncinatti, OH
Nashicon Columbia, SC
Space Columbus, OH
Toronto Anime Toronto, ON
Va Fest Book Charlottesville, VA
Vericon Cambridge, MA
Wizard Toronto Toronto, ON
Zenkaikon King Of Prussia, PA
By Petrea Mitchell| March 12, 2011 | Comments Off on Tokyo fandom is all right
For those wondering about the people behind HAL-Con, Nippon 2007, JASFiC, and so forth, most of them live in and around Tokyo and have been reporting in via SMOFs and other sources over the last couple days. No notables are believed to be missing. They are, however, understandably concerned about their friends further north.
If you would like to donate to the earthquake relief effort, Anime News Network has put together a list of links to aid agencies around the world which will be participating.
By Shawn Scott Smith| March 12, 2011 | Comments Off on 13 more convention dates.
April 2nd-3rd, 2011
Noobiecon Utica, NY
April 15th-17th, 2011
Decepti-kon Sacremento, CA
April 30th-May 1st, 2011
Shoryucon Princess Anne, MD
May 20th-22nd, 2011
Las Vegas Supercon Henderson, NV
May 28th-29th, 2011
Chibicon Nixa, MO
July 29th-31st, 2011
Steel City Con Pittsburgh, PA
Aug19th-21st, 2011
Ramencon Merryville, IN
Ani-JamFresno, CA
Sept 16th-18th, 2011
Foolscap Redmond, WA
Sept 23rd-25th, 2011
Cogcon Rolla, MO
Nov 12th-13th, 2011
Fandom Pensacola, FL
Feb 17th-19th, 2012
Katsucon Washington, DC
May 25th-27th, 2012
Ultimacon New Orleans, LA
By Shawn Scott Smith| March 11, 2011 | Comments Off on Nashicon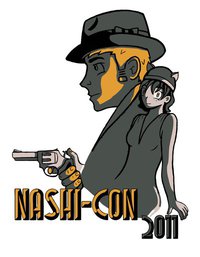 Very much a last minute thing, I have been invited and accepted to attend the artist alley at next weekends (March 19th-20th) Nashicon on the campus of South Carolina in Columbia, SC. Ill be at my table on Saturday and Sunday so stop by, take a creature home with you or just chat. Nashicon's Website
« go back
—
keep looking »