By Shawn Scott Smith| December 29, 2011 | Comments Off
For Immediate Release
December 28, 2011
Overland Park, Ks. – The Melodic Death Metal/Trance Metal band BLOOD STAIN CHILD will perform at the Overland Park Convention Center in February as Naka-Kon 2012's musical guest of honor.
Formerly known as Vision Quest, the band changed its name to BLOOD STAIN CHILD one year after its formation. The band's members include vocalist Sophia, guitarist G.S.R., drummer Gami, bassist/vocalist Ryo, synthesizer/programmer Aki, and guitarist/construction leader Ryu.
More Naka-Kon 2012 guests will be announced as the convention nears. For more information about BLOOD STAIN CHILD and other guests, please visit http://naka-kon.com/guests.
###
About Naka-Kon
Naka-Kon Anime Convention is organized and operated by approximately 100 unpaid staff members, many of whom are students and most of whom live in the greater Kansas City area. Naka-Kon was first held in 2005 at the University of Kansas Memorial Union in Lawrence, Kan. In 2011, nearly 5,000 attendees gathered at the Hyatt Regency Crown Center in Kansas City, Mo. for a three-day, paid convention. Naka-Kon 2012 will be held at the Overland Park Convention Center Feb. 10 – 12. Traditional features include industry guests, panels, game shows, contests, showings, and vendor and video game rooms. For more information, visit http://naka-kon.com.
By Shawn Scott Smith| December 29, 2011 | Comments Off
Quick Reminder!
By Shawn Scott Smith| December 27, 2011 | Comments Off
Overland Park, Kans. – Naka-Kon has announced yet another three guests for 2012.
First up, as a cosplay guest, we have expert craftswoman Aleathia Burns.
Voice actor and industry expert, Chris Cason, known for his role as Gluttony in Fullmetal Alchemist will be joining us as well.
Finally, our last voice actor for this year is the ever popular Steve Blum, known for voicing Spike Spiegel in Cowboy Bebop.
More Naka-Kon 2012 guests will be announced as the convention nears. For more information about these guests, please visit http://naka-kon.com/guests.
By Shawn Scott Smith| December 26, 2011 | Comments Off
Just one this weekend as Ikkicon in Texas ends 2011 and Starts 2012 for the convention world!
Dec 30th-Jan 1st, 2012
Ikkicon Austin, TX
By Shawn Marshall| December 22, 2011 | Comments Off
With only 15 days to go until the first con of 2012, things are heating up in Mesa, AZ as Amazing Arizona Comic-Con (AACC) continues to prep their sophomore show. For those located in the Arizona/California/Nevada/New Mexico area, this is a "must attend" comic event. Here is the latest info on their guest list: Read more
By Shawn Scott Smith| December 22, 2011 | Comments Off
Happy Holidays Everyone! Petrea or Shawn may still make a few posts between now and Christmas, but I'm taking a few days off to prepare for family visiting, and just because after 4 almost 5 years of doing this, I think I can :> I hope everyone has a great Holiday and as always thanks for reading con-news.com! Fandom Forever!
By Petrea Mitchell| December 21, 2011 | Comments Off
Anime News Network reports that 495 Productions, the people who brought you Jersey Shore, are seeking participants for an "experimental documentary series". Applicants should be "self-identified pop culture fanatics from the worlds of comics, graphic novels, sci-fi, anime, manga, video games, toys, movies, and television."
There's no information on what to expect about the general angle or tone of the show, but one can reasonably expect the Jersey Shore tradition to be carried on here.
By Shawn Scott Smith| December 21, 2011 | Comments Off
After retiring from professional wrestling, Mane has appeared in numerous films, including X-Men as Sabretooth (his film debut), How to Make a Monster (as Hardcore), Joe Dirt, The Scorpion King, Troy (as Ajax), Hercules (as Antaeus), and The Devil's Rejects (in the uncredited role of Rufus). The role of Sabretooth was initially intended for Mane's former wrestling tag team parter, Kevin Nash, but was awarded to Mane due to Nash's scheduling conflicts. Nash would, however, get a small role in a later Marvel Comics film, The Punisher.
In 2007, he filmed Rob Zombie's remake of Halloween, in which he played the iconic starring role of Michael Myers. After winning the role, he noted that he consecutively watched seven of the eight Halloween films (excluding the third because Michael Myers does not appear) to better understand his character. He is the tallest actor (6′ 9″) to portray the character.[3] In 2009, he reprised the role again in Rob Zombie's H2, becoming only the second actor to play Michael Myers more than once, and the only actor to play the role in two consecutive films.
———————————————————————————————————————————————————————
By Petrea Mitchell| December 20, 2011 | Comments Off
The next North American Discworld Convention will be held in Baltimore, MD, July 5th-8th, 2013. Bids are now open to host the 2015 convention.
The official site has not been updated yet, but more information is available in the announcement here.
By Shawn Scott Smith| December 20, 2011 | Comments Off
By Shawn Scott Smith| December 20, 2011 | Comments Off
Easy Being Green: 'The Incredible Hulk' Lou Ferrigno Added To 2012 Wizard World New Orleans Comic Con Celebrity Roster
Former Mr. Universe, Star of Popular 'Hulk' Series to Attend Event, January 28-29 At Ernest N. Morial Convention Center
NEW YORK and NEW ORLEANS, December 19, 2011 – Lou Ferrigno, best known for his role in the television series "The Incredible Hulk," will attend Wizard World New Orleans Comic Con, January 28-29, 2012, at the Ernest N. Morial Convention Center.  Ferrigno, a former Mr. Universe who this year was presented with the Arnold Schwarzenegger Lifetime Achievement Award, is a fan favorite at Wizard World events.
Ferrigno starred for five seasons as the Hulk, opposite Bill Bixby's Dr. Bruce Banner, in the show based on the popular Marvel comic, co-created by Stan Lee, who will also be in attendance in New Orleans.  Ferrigno has appeared in numerous other movies and TV series, including the reboot of "Hulk" in 1996 and in a recurring role in hit "The King of Queens."
More recently, Ferrigno has run a successful personal training business that includes such star clientele as Mickey Rourke, Michael Jackson, and Chuck Norris, which led him to author the book "Lou Ferrigno's Guide to Personal Power, Bodybuilding and Fitness for Everyone."  Read more
By Shawn Scott Smith| December 19, 2011 | Comments Off
CONvergence 2012 Registration
Rate Reminder This is just a quick reminder that the registration rates for CONvergence 2012 go up after December 31. The current rate is $50 and will rise to $60 on January 1! We will send another notice three days before then. You can register for the convention a number of ways, so visit the Convergence-Con.org website for more information.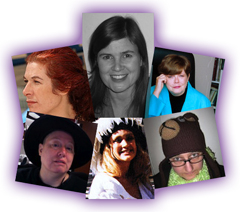 Guests of Honor 2012
To celebrate our theme of Wonder Women: a Four-Day Celebration of the Female Creators and Characters of Science Fiction, we are honored to announce that the following extraordinarily talented women will be at CONvergence 2012!
Sophie Aldred, British actress best known as the Doctor's companion Ace on Doctor Who
Jennifer Clarke Wilkes, game designer for Wizards of the Coast
Lyda Morehouse, local author who writes science fiction under this name and urban fantasy under Tate Hallaway
Sharyn November, professional editor specializing in young adult literature
Tamora Pierce, author of young adult series such as Song of the Lioness, Bloodhound and more
Ruth Thompson, visual artist and returning Guest of Honor
Art Contest

Want to have your artwork featured in publications that go out to thousands of people? Submit your work through March 1, 2012 tocommunications@convergence-con.org to have it considered for our convention Souvenir Book for 2012 (with full credit). Artwork does not need to feature one of our mascots such as the robot Connie or her creator Professor Max, but should reflect the broad spectrum of genres and formats CONvergence encompasses. We're especially interested in artwork tied to our annual convention theme.
Requirements:
Family friendly: PG content only
Line art or grayscale
Send a scan or digital art file only (no original artwork)
Your 2012 Hotel Needs

Our Double Tree room block and the Sofitel room block across the street have been filled. Have no fear! Don't have a reservation? Read this news
By Petrea Mitchell| December 18, 2011 | Comments Off
Comics Beat has an interview with the new chairman of Wizard World, Mike Mathews. His immediate focus appears to be rebuilding relationships with ex-customers and Wizard's industry peers. As for the future:
"We've rebuilt wizardworld.com and are in the process of becoming a vertical ad network similar to Complex and Break.com. We are also running Toywiz.com and we are just finalizing deals with a number of music sites. When you think of us as an entertainment brand we don't want to be just in a narrow category, but a broader category of entertainment."
[Hat tip: Isaac Alexander]
By Shawn Scott Smith| December 18, 2011 | Comments Off
Feb 18th-19th, 2012
Beyondcon Gig Harbor, WA
March 2nd-4th, 2012
Fannatiku St. George, UT
Eyecon Vampire Atlanta, GA
Steel City Con Pittsburgh, PA
March 16th-18th, 2012
Princecon Princeton, NJ
March 23rd-25th, 2012
Nerdcon Omaha, NE
April 13th-15th, 2012
Kingdomcon San Diego, CA
Mich Pinball Rochester, MI
April 21st-22nd, 2012
Fan Expo Canada Vancouver, ON (hat tip to Isaac Alexander)
T-mode Alexandria, VA
April 26th-28th, 2012
Recon Cocoa Beach, FL
Botcon Dallas, TX
May 19th, 2012
East Coast Black Age of Comics Philly, PA (Sat)
May 25th-28th, 2012
Fanime San Jose, CA
June 9th-10th, 2012
Super Mega Show Whippany, NJ
June 29th-July 1st, 2012
Fright Night Louisville, KY
July 20th-22nd, 2012
Tokyo In Tulsa Tulsa, OK
Kansasfest Kansas City, MO
July 27th-29th, 2012
Anime Iowa Iowa City, IA
By Shawn Scott Smith| December 18, 2011 | Comments Off
Suprise! None! Happy Holidays!
By Shawn Marshall| December 17, 2011 | Comments Off
February's huge Dr. Who con is entering its final stages. As such, prices are immenently rising, so take care of tickets now. Here is a quick update from their site: Read more
By Shawn Scott Smith| December 17, 2011 | Comments Off
JOE KUBERT TO BE "SPOTLIGHT" COMIC GUEST AT CHICAGO COMIC AND ENTERTAINMENT EXPO
First Guest Announcement for C2E2 Just in Time for the Holidays!!
Norwalk, CT, December 16, 2011:  Comic legend Joe Kubert has agreed to appear at the third annual Chicago Comic and Entertainment Expo (C2E2). This will be Mr. Kubert's first appearance at C2E2 and show organizers are very pleased that the legendary creator's participation at the show is the first guest appearance announcement for this year's C2E2.  Not only that, the confirmation comes just in time for the holidays … a great way to begin excitement for the stream of guest appearance announcements that will come as soon as the New Year begins in January.  C2E2 will take place April 13 – 15, 2012 in the North Building at the McCormick Place Convention Center.
"This is an awesome way to kick off our guest announcements for C2E2," notes Lance Fensterman, Group Vice President for ReedPOP and Show Manager for C2E2.  "Joe Kubert is a legend among legends, one of the few stand out comic creators who has contributed his talents not just to creating comic stories and characters but to sharing his talents and teaching future generations of artists how to apply their skills.  In a way, he defines what we want to accomplish at C2E2, which is to provide entertainment while influencing and encouraging young people to pursue their creative expression.  This is a great announcement to make as we enter the holidays … a present for our loyal audience!"
Mr. Kubert will do a panel as well as conduct signings at the show and so there will be plenty of opportunity for his fans to see him.  In addition, The Kubert School, which he founded in 1976, will also have a booth at the show.  For further information about C2E2 and for purchasing tickets please visitwww.c2e2.com.
ABOUT JOE KUBERT:  
Born in 1926, Joe Kubert began his career at the age of eleven as an apprentice for Harry "A" Chesler's comic-book production house. He has worked in the field ever since, and in his more than seventy years with the medium he has produced countless stories for countless characters, including DC Comics' Hawkman, Tarzan, Enemy Ace, Batman and the Flash as well as his own characters: the heroic caveman, Tor, and Abraham Stone. He also edited, wrote and illustrated the DC title Sgt Rock for thirty years.
In the 1950s, Kubert was a principal in the creation of the first 3-D comic book. During the 1960s, he illustrated Tales of the Green Beret for the Chicago-Tribune New York News Syndicate.
In 1976, Kubert and his wife Muriel founded the first and only accredited school devoted solely to the art of cartoon graphics. The Kubert School, Inc. in Dover, New Jersey, has since produced many of today's leading cartoonists. Pursuing this educational path further, in 1998 Kubert established a series of correspondence courses under the banner of Joe Kubert's World of Cartooning. At the same time, he established his website:www.KubertSchool.edu.
Kubert has remained busy throughout the years. The last fifteen years, he has created SGT ROCK: BETWEEN HEAVEN AND HELL (written by Brian Azzarello) as well as FAX FROM SARAJEVO, YOSSEL, JEW GANGSTER, SGT ROCK: THE PROPHECY, and TOR: A PREHISTORIC ODYSSEY, all written and drawn by Kubert. In addition to these works, he produces PS Magazine for the U.S. Army (as he has since 2000) and has most recently written and illustrated a new graphic novel about a special forces team in Vietnam for DC Comics. DONG XOAI, VIETNAM 1965 is scheduled to be published in May 2010.
Joe Kubert lives in New Jersey. Two of his five children, Adam and Andy, have achieved great notoriety as comic-book artists.
ABOUT REEDPOP:  ReedPOP is a boutique group within Reed Exhibitions which is exclusively devoted to organizing events, launching and acquiring new shows, and partnering with premium brands in the pop culture arena.  ReedPOP is dedicated to producing celebrations of popular culture throughout the world that transcend ordinary events by providing unique access and dynamic personal experiences for consumers and fans.  The ReedPOP portfolio includes: New York Comic Con (NYCC), Chicago Comic and Entertainment Expo (C2E2), Penny Arcade Expo (PAX) East & West, Star Wars Celebration V, New York Anime Festival (NYAF), and UFC Fan Expo.  The staff at ReedPOP is a fan based group of professionals producing shows for other fans, thus making them uniquely qualified to service those with whom they share a common passion.  ReedPOP is focused on bringing its expertise and knowledge to world communities in North America, South America, Asia and Europe.
By Petrea Mitchell| December 17, 2011 | Comments Off
Chicon 7, next year's Worldcon, will be selling attending memberships at a discount December 20-26. Adult memberships will be $15 off, young adult memberships will be $10 off, and family rates will be discounted by an unannounced amount.
See the full press release here.
« go back
—
keep looking »